We all know staging a home is an important part of the selling process. A step that can make or break the length of time your house is on the market or the offer price you receive. This staging process is just as important when you're looking to sell your beach home. Owning a beach home is many people's dream, so their house-hunting process will be thorough and extensive. By staging your house with some top design ideas, you'll be able to set yourself apart from others.
Enhance your view
Chances are your beach home has a breathtaking view, show it off to potential buyers. Whether your space is located directly on the shore or a street away, a view can be a major selling point. When staging your spaces with windows of these views, be sure nothing is blocking the picturesque sight. Rearrange furniture and decor items so that the view can be fully seen from all angles. Buyers will be more focused on the view than the furniture. Accent your windows with light curtains or bamboo shades. However, make sure they're pulled completely to the sides. This will show buyers that they can easily have privacy when desired but reminds them that the gorgeous view will always be there. If you don't have a selling point type of view, then highlight the surrounding views through local art and photos.
Highlight local sights
Whether you have a view or not, highlighting local sights around your beach town is the perfect addition when staging your house. Beach towns often have boutiques and shops with unique photos and paintings you can purchase to decorate your space. If you lack that view but know the area around is beautiful, then show buyers in a way that will grab their attention. Try and find a one-of-a-kind piece to draw them in versus a more cookie-cutter photo that could be of any beach!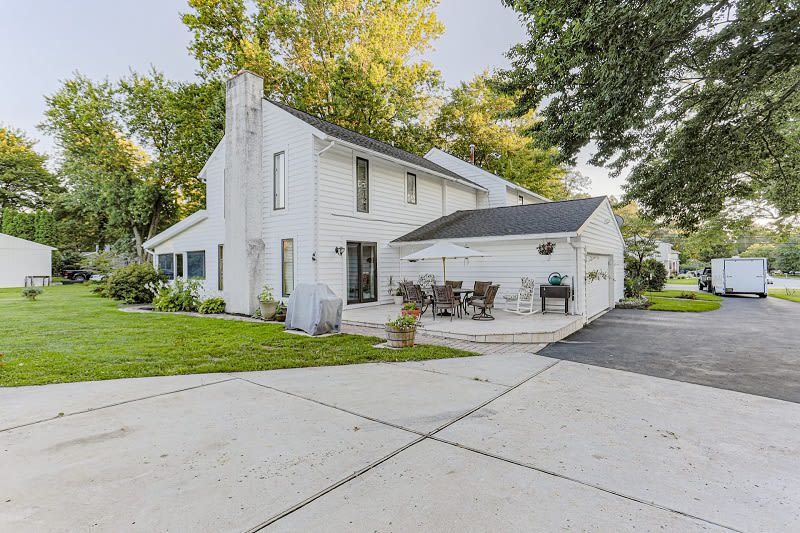 Modernize the space
If it's been a while since you've touched up your beach house, investing in some modern updates may be well worth the time and money. A modern space on beach property can be hard to find, so with a few updates, your space will be a top competitor. If you aren't interested in a full kitchen demolition and a huge investment, there are still small ways you can make a big difference when modernizing your space.

Sometimes a fresh coat of paint is all a room needs to bring it back to the times. If your walls are in need of a refresh, stick with a modern and neutral color palette. It can be tempting to bring the coastal atmosphere into your wall color, but be patient because we've got plenty of other ways to bring in the fun! Whites and gray are the perfect pairings when it comes to wall and cabinet colors. Give yourself a simple foundation, and you can spice it up with the decor.
Minimize the tourist beach decor
Your beach house may have become filled with endless shells and memories from the shore, but pack them away while you stage your house. We all know that the tourist and beach decor is bound to make its way into your house sooner or later, but while staging and showing your house, it's best to provide potential buyers with a clean slate. This will allow them to envision themselves in your old space. When you leave too many of your personal touches and intimate moments on display, it doesn't give the next homebuyer the ability to see themselves making memories there. There's definitely a time and a place for the funny mugs and signs, but when you're staging to sell, we suggest boxing them up.
Cozy up the space
With a modern approach to your coastal home, it can start to feel a little cold. There are some elegant and coastal feeling ways you can cozy up the space again.

Try incorporating wooden or woven features. These can be included in the light fixtures you choose, accent tables, barstools, and so much more. The wood tone and woven texture are guaranteed to bring in an earthy element, which naturally warms up the space. This approach is a great way to maintain a modern vibe while making it feel like home. For some design ideas, check out these pieces that we're in love with:

◾ Cabo Large Woven Pendant Light
◾ Tondo 14" Bowl
◾ Frannie Coffee Table
◾ Get the Look: Natural Beauty
◾ Get the Look: Woven Wonders
◾ For even more inspiration, visit Zin Home's modern cane and rattan section.

With a modernized space, you've likely adhered to a mostly white and gray color palette. By playing off of those gray and even adding in a nautical navy color, you can make your living spaces feel more comfortable. If you're ready to hop on the nautical train, here are some favorite navy blue accent pillows:

◾ Indigo Blue 20" Washed Cotton Velvet Pillow Cover
◾ Croft 20" Insignia Blue Crochet Pillow with Feather-Down Insert
◾ Maja Mosaic Pillows 24"x16", Set of 2

Another one of our favorite ways of bringing that beach vibe into your clean space is through the use of rope. Be careful not to go overboard with this, but with luxury pieces, it can be a major element. Think less DIY and more Crate and Barrel for rope decor. If you're having trouble envisioning, check out our favorite rope friendly finds:

◾ Tyler Square Basket With Rope Handle Low
◾ Byron Rope Weave Pillow 24"x16", Set of 2
◾ Pismo Round Rope Mirror 50"

Not only are blankets the epitome of comfort, but they also visually demonstrate this cozy feel we're looking for through their textures. They can also be a super affordable way to bring in an accent color or pattern. Here are some of our favorite blankets that do much more than keep you warm:

◾ Letti Slate Fringe Throw
◾ Oversized Chunky Hand Knit Decorative Bed Throw - Casaluna
◾ Bearaby Organic Cotton Napper Weighted Blanket
Stage the outdoors
In a home with beach living, the outdoor space is just as important as the indoors. Make sure you modernize and stage this area too. Give the exteriors a nice wash to remove any of the sand tracked in. Replace any old and weather-worn furniture with bright and inviting pieces. Show buyers that this outdoor space is an additional room they'll want to spend time in. This includes freshening up your lawn if you have one. Find fresh and vibrant plants to decorate the outside with, and you're guaranteed to catch their eye from the moment they drive up to the final room. Here are some of our favorite ways to stage an outdoor space:

◾ Refresh plants if you have landscape space
◾ Bring in life on your balcony with succulents and potted plants
◾ Give your deck or patio a fresh rinse
◾ Get rid of the old furniture and incorporate new
◾ Add in classy decor to make the space feel like home
◾ Incorporate visual lighting
◾ Stage a mini bar for 21+ fun
◾ Use pillows to make the space feel comfortable
◾ Focus on making the space feel breezy
Show off your maximum space
Something homebuyers are often looking for is space, especially in a beach home. Getting the most space for the best price is usually top of their list. You may fill your rooms a queen, but for staging purposes, think about showcasing how two twin beds can fit for a larger family. If you have beds, couches, or futons that convert, be sure to show that off. Even if you aren't planning on leaving your furniture behind, you'll show buyers that this extra space for guests can be easily done. Showing how your rooms can accommodate multiple people through strategic stagings, such as bunk beds, helps your space appeal to a wider range of buyers. If you have ample storage space, demonstrate how you easily tuck away extra items for guests. It's important to maintain a clean look while staging the space as a function for their lives.
__ __ __
Whether you're ready to part with your beach house or are looking to upgrade, Joseph Connor has been specializing in ocean view luxury homes for years. He understands the extra effort beachfront buying and selling requires, but through his personal experience with beach living, he's the best agent to help smooth the process. For a quick and efficient selling process with over 30 years of expertise in the area, contact Joseph Connor.